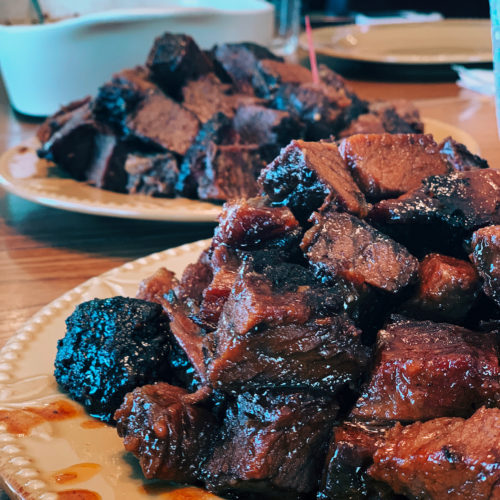 Brisket Burnt Ends
Ingredients
INGREDIENTS
1 brisket point-end

approx 7lb

1/4 cup apple cider vinegar

1.5 cups water

1/4 cup Famous Daves-Seasoning Rib Rub

1 cup cola

1 cup BBQ sauce

1/2 cup brown sugar

2 tablespoons Worcestershire sauce

1 tablespoon soy sauce

2 tablespoons butter

1-2 tablespoons honey

1-2 tablespoons kosher salt

honey
Instructions
INSTRUCTIONS
Preheat a smoker to 225f.

Slather mustard and apply the Famous Daves-Seasoning Rib Rub generously.

Place the brisket into the smoker. Cook with apple wood chips until an internal temperature of 150f is reached.

Wrap the brisket tightly in foil, and return to the smoker until an internal temperature of 185f is reached. Make your sauce during this phase of the cook.

Place the cola in a small saucepan over medium high heat, and reduce liquid by at least half. Add the bbq sauce, brown sugar, Worcestershire, soy and butter, plus salt to taste. Stir to combine until thickens.

Remove brisket from the smoker, and cut into thick slices, about 3/4 inch. Then cut the slices again to form cubes. Remove the large seams of fat – trim these out or discard.

Place the brisket cubes in a large foil tray, then pour over the sauce, stirring to make sure all the pieces are well coated. Drizzle honey across the top, then return to the smoker.

Increase the heat of the smoker to 275f, and cook a further 2-3 hours, or until the liquid has reduced and caramelized. You will see fat accumulate at the bottom of the pan as it renders – this is normal, and should not be confused with the sauce liquid. Serve immediately or keep warm until ready to serve, otherwise the sugars in the sauce may harden.